The art chasm
While I was writing this piece, I was thinking about how to find the threshold at which an idea is too confusing for what should be its target audience. I don't have a good answer to that, but I started thinking about the art market as an idea market.
This made me think that there may be a similar chasm in art, which would imply that there's a similar chasm in all idea adoption. Look at the Moore curve again: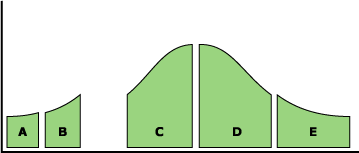 If the slices are relabled as follows, it still makes some sense:
A: avant-garde
B: experimental
C: mainstream
D: cliché
E: kitsch
Now, of course, the size of the slices doesn't represent the market size--there's a lot of kitsch out there--but maybe it represents the visibility of the style or the recognition of the style as "interesting." Anyway, it seems to make sense, though I haven't quite figured out how.
Posted by mikek at August 22, 2004 03:38 PM | TrackBack