Ideachasms
I've been thinking about the adoption of new ideas lately, both in companies and in the market at large. Inspired by the Cambrian Explosion and subsequent die-off, I've been thinking about what happens to people's perceptions when new ideas come along.
Thought 1: Idea definitions narrow with time
When a substantial new idea appears, the boundaries of the definition of that idea are not known. There are many different interpretations of the idea. However, as time goes on, the number of new definitions slows, the idea space is explored, fewer variations appear and, finally, the number of things that define a concept are reduced. This looks like this: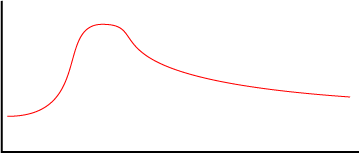 Thought 2: A comprehension threshold
There is a point at which the number of variations on an idea becomes too great to communicate a coherent version of that idea to an uninitiated audience. In other words, if there are too many alternative interpretations of an idea to choose from, if someone hasn't been primed by experience with similar ideas, or by in-depth research to understand the commonality between all of the variations on an idea, they won't get it. Or if they get it, they'll either get a rudimentary version of it or a distorted, incorrect, one.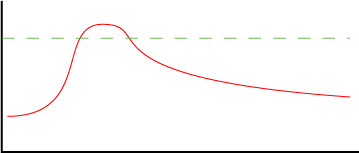 NOTE: I'm intentionally simplifying this. In reality, I think that exposure to ideas makes them more comprehensible, so the right edge of the threshold is likely higher than the left, but for the sake of this discussion, I've made it a simple horizontal line.
Thought 3: Comprehension thresholds create Moore's chasm
Geoffrey Moore
defined a chasm in new technology adoption
in his book
"Crossing the Chasm."
In it, he divides the adoption market for a given technology into 5 divisions: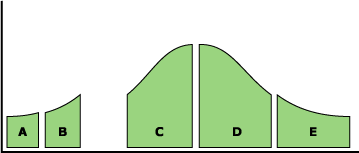 A: Technology enthusiasts
B: Visionaries
C: Pragmatists
D: Conservatives
E: Skeptics
Note: I've cut off the two most trailing ends of the bell curve—theoretically it goes all the way to 0 on both ends.
The graph represents market size for sections of a market, but it can also be read left to right as the sequence in which a technology is adopted, which is how Moore's chasm appears (roughly speaking, of course—in reality, the gaps represents the difficulty of reaching a market, not time, but it's a reasonable abstract model). His insight is that, for some reason, it's hard to get Pragmatists to adopt a new idea and it may take a lot of energy, time or money to cross it. Moore's theory is that Pragmatists want something that "just works," unlike Technology Enthusiasts, who like the tech for the sake of the tech, or Visionaries, who are enamored with what the tech could be.
But what does "just works" mean? Moore talks about the qualities Pragmatists are looking for in a product—that it be stable, reliable, supported, etc—but I have a different theory. I think that they buy the product when they can be bothered to understand the idea it represents (and thus, the idea's value), and they only understand the idea when the number of competing variations is small enough to not be confusing. In other words, until the number of competing variations on an idea drops below the comprehension threshold, Pragmatists won't care to understand it.
This means that the chasm is that period between the time when an idea crosses the confusion threshold and the time that the number of variations drops to the point that people care to grok what it means (and it's not that they can't understand it, it's just that there are too many options for them to filter through).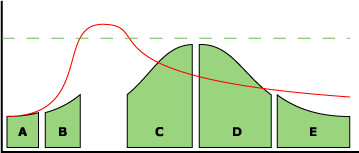 Thought 4: Idea variations are embodied in products
For people to be exposed to an idea, there has to be some way it's introduced to them. With product-based ideas, that way is, tautologically, through exposure to products. The graph of idea variations can be read as the number of products on the market that represent a certain idea, with each product a variation. It can also be read as the number of features offered on all the products currently on the market. Initially, when there's a new product idea, it's followed by an explosion of variants, but at some point the complexity of the product variants starts to drop. My claim is that it's only after this has dropped for a while, and the variants have been winnowed to those that are actually successful, that the mainstream market will adopt the idea.
Thought 5: User research rapidly reduces competing ideas
So far this is an evolutionary theory of idea success in the marketplace (and a simple one at that). To a large extent, I believe that's going to happen no matter what, but I also believe that user research can accelerate the evolution substantially, and to raise the chances of an idea's success in the mainstream market. If the variations on an idea are researched in the Early Adopter stage, it may be possible to identify ones that particularly confuse Pragmatists (the noise in the signal, from their perspective) and eliminate those from products targeted to them. To some extent, I think that this is what we user researchers have been doing all along, but as an explanation for why it's useful, and when it's useful, this set of ideas seems pretty satisfying (at the moment, anyway ;-).
Posted by mikek at August 22, 2004 03:23 PM | TrackBack