There are two projects I've become aware of recently that represent the explicit linking of physical objects to their information shadows, both in children's products. This kind of thing has existed before, but its prevalence seems to be on the rise.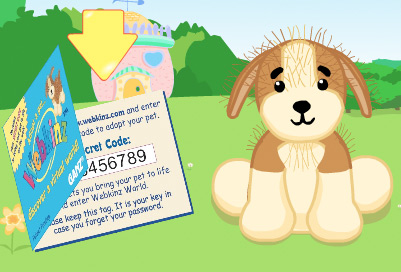 The first (found by Liz) is WebKinz which are plush toys that each have a unique code on their tag that brings up a unique play space that's just for that specific toy (randomly generated of course). The idea is "Beanie Babies meets NeoPets meets Cabbage Patch Kids" and although I think the execution of the concept leaves much to be desired (why buy furniture for your toy basset's online "room"?), it's an interesting example of how toy companies are merging offline and online conceptual play spaces in a very direct way.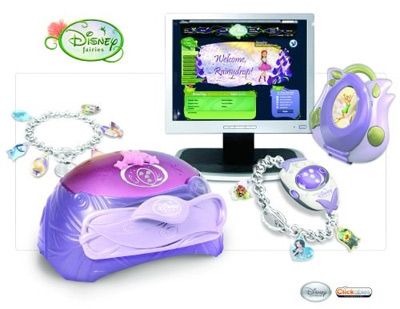 The second is Disney's Clickables, which I learned about from CNET's Matter/Antimatter blog.
Clickables that we are launching in connection to our new Disney Fairies virtual world. It's a way for kids to take their online world experience into the real world. The core of it is a magical bracelet. By simply clicking their bracelets together, girls become friends in the online environment.
From the press release:
"The future of toys is about connecting online and offline play," said Chris Heatherly, vice president of technology and innovation, Disney Consumer Products. "Kids and tweens are quickly embracing virtual worlds and, while there are several Internet-related toys in the market today, the play ends when the computer gets shut down. With our new line of Disney Fairies toys featuring Clickables technology, we're bringing the fun of social networking, collecting, and trading into the real world so that girls can extend the fun of the enchanting online world of Pixie Hollow to school, the park, or wherever they may be."
This system of course owes a lot to Ruth Kikin-Gil's Buddy Beads project in terms of its use of jewelry to communicate social relationship between BFFs, but it also explicitly links the online world to the physical world using magic as a metaphor. It's not surprising that it's coming from Disney thematically, but what's interesting to me is how much Disney is investing in it. This is a sizable product rollout, which typically means that they have done enough research to believe that it'll be successful on their terms, which typically means hundreds of thousands, if not millions of customers. It's a project, and a genre, to watch.