In the last couple of months Liz and I have become friends with Jason and Di-Ann in Portland. They have a new startup called Platial. Platial is one of the sites in the cluster of social geographic bookmarking sites which are appearing (Tagzania and Plazes are two others, I think there are probably at least 6 more in the field). Its aim is to let you create a personal geography of interesting points. For example, I put in my childhood home and added a couple of tags. However, it's the only point I've put in, and I started to wonder why. For me, it's because none of these systems support one of the primary ways I think about personal geographies, which is in terms of regions.
For example, in addition to locating the specific place where Powell's books is located in NW Portland (where we live), I'd like to be able to identify regions of the place.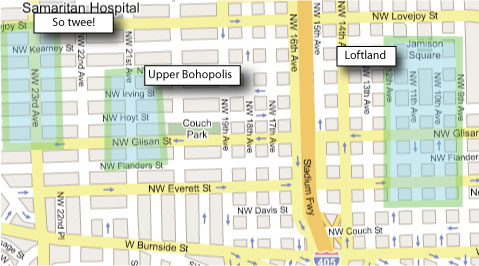 With this idea, people could add multiple tags to the same region...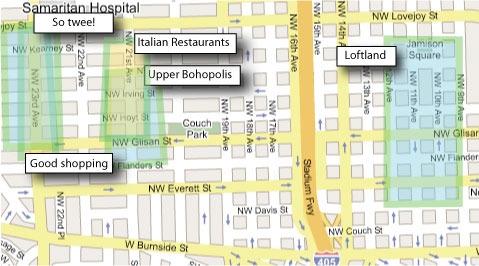 Or different people could use the same tag with multiple regions, so that, like with other kinds of folksonomies, there wouldn't necessarily have to be agreement in the meaning of a term, but the variation would be informational in itself.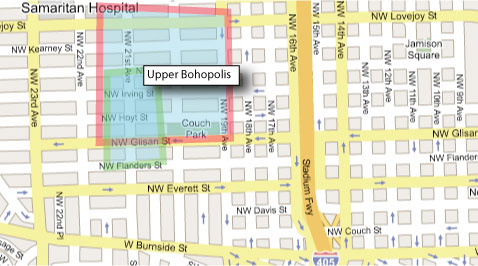 The general idea is that I think in terms of regions of activity, rather than clusters of points, when I'm thinking of personal geographies. If you look at the Google/Flickr memory maps you will notice this, too. Occasionally there are points or things that can be defined as points, but for the most part, it's areas.
[NB: "bohopolis" is my term for the fragmented bohemian city that I live in; whether it's the Mission District of San Francisco, Friedrichshain in Berlin, the Alberta Arts District in Portland, Corktown in Detroit, the East Village...it's all the same city, just unevenly distributed]