SpaceShipOne
It was like being back in the 60s. Brian Slesinsky invited me to with him to see SpaceShipOne, the Paul Allen-funded private space program, and we went yesterday for the launch early this morning at the Mojave Airport.
The crowd was a mixture of NASCAR dads there for the tech, aerospace students and sci-fi geeks there to dream, retirees to relive their Cold War youth, and Libertarians to prove that anything the government can do, private industry can do better.
All of them got something from the experience. It was a fascinating mixture of gung-ho American free enterprise optimism (the announcers repeated that the biggest obstacle had not been technical, but convincing the FAA; other times they talked about how this was the start of a new era of California aerospace), nostalgia (Mike Melvill is a space cowboy cast from the classic mold), cool technology and a beer drinkin' good time (though the early-morning liftoff kept most of the beer drinking to the night before).
Political and cultural analysis aside, it was a tremendous event. The technical achievement is huge, and the presentation was organized like clockwork. The rocket's tiny contrail was nearly invisible against the sun. Everyone strained to see it, and when it finally appeared, it was breathtaking in its elegance and fragility (it must have lasted less than a minute). The next 20 minutes was so nervewracking, as everyone tried to catch sight of it, the announcers forgot to do any play-by-play. When it finally appeared, moving a lot faster than I thought any glider should move, chased by 4 planes, it was hard not to feel joy for the pure simplicity of the event, the meaningless act that means so much. I wouldn't have missed it.
7:51AM (see the big image for the contrail):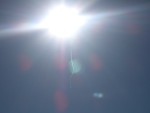 Posted by mikek at June 22, 2004 12:24 AM | TrackBack