Power Tool Drag Races, Day 1
Today I was fortunate enough to participate in the Power Tool Drag Races, one of the more ridiculous and fun San Francisco technology-art events. I pulled extension cords all afternoon in exchange for having a great view of the action. Tomorrow, the big race day, my vehicle races.
Here are some pictures. It clearly shares the Mad Max esthetic sensibilities with SRL and Burning Man (not surprisingly, the personnel overlap between the three organizations is high):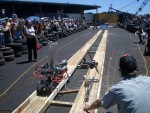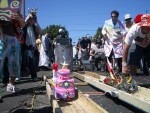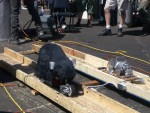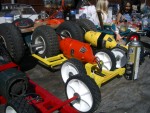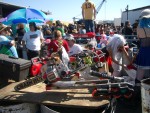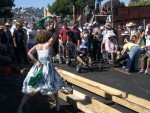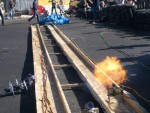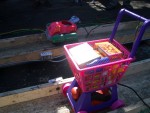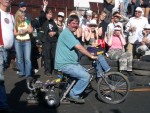 Niki de Saint-Phalle and Jean Tinguely would have been proud (they did the crazy, colorful fountain at the George Pompidou center in Paris and are probably the patron saints of all this stuff).
Here's an essay I wrote for Charlie Gadeken (of Qbox) last year, when he asked for a review of the 2003 event. It's a bit smug, but I think the description is still relevant.
A Carnival for Belt Sanders
There was a moment at this years' Power Tool Drag Races when one of the racers — a gas-powered saw thing with rubber tricycle wheels and a dented trombone for a muffler called Horned Devil — jumped the track. The wheels were probably designed to be big enough to keep the thing between the guide rails so that it wouldn't get turned sideways and drag itself to a halt, as some of the racers do. Nice idea, but that's not what happened. The problem was likely that the wheels were too big and had just enough grip on the rubber tread to grab the edge of one of the two-by-fours that make up the rails. This probably caused the other wheel, which was still on the ground, to push a little harder, turning the thing directly into the rail, which it proceeded to hop pretty effortlessly. Since the thing was gas-powered, the power couldn't be cut once it had left the starting line and it kept going in whatever direction it was last pointed at.
So it made a beeline for the audience's legs. Ideally, the audience was supposed to keep their arms and legs behind a fence of old tires that separated them from the track. People, however, tend to take their mastery over technology for granted and the Power Tool Drag Race audience was as cavalier about it as their parents were on midway parachute rides and as their grandparents were when standing next to the big bull at the rodeo.
I was standing next to the track when the Horned Devil jumped the rails, and I could see the puzzled look on people's faces as the thing made for their legs. Having left their computers and cappuccino machines (who used which for work and which for entertainment is hard to tell in this crowd) and driven to Ace Auto Salvage in their electronic fuel injected cars and motorcycles, they at first seemed a bit surprised to see the thing coming at them. Sure they had to sign this waiver thing before going in, but that had been long forgotten in an afternoon of beer, sun and funny announcers. As their thoughts turned from "Cool! It's jumped the track!" to "Crap! It's going to eat my legs!" may be there was a moment of contemplation about our relationship with our domesticated technology, a shift in the attitude to the objects that surround us and which we take for granted.
I doubt it. In the seconds before a car crash no one reflects on their comfort zone in the balance between convenience and safety, and I doubt anyone was thinking of anything but getting their somewhat sunburned legs behind the tires. But it's kind of a nice thing to think about.
The funny thing about the Power Tool Drag Races is how little the racing mattered. Sure there were a lot of entries and there were all the trappings of a race (announcers, hot dogs, flag girls, stopwatches, a leader board, a bookie). Yes, toward evening Jim Mason's nitrogen fire extinguisher skateboard did 0-60 mph in about a second and beat out a hand drill on an RC car frame, weed whackers, circular saws, and the usual gang of sanders. As his grand prize, Jim now technically owns a semi-functional Edsel sedan. But that's not the point. Unlike the hardware store belt sander races for which basement tinkerers make their sanders a little faster every year to take out their neighbor in the parking lot of the local ACE and get a gift certificate and a trophy, this is different. In San Francisco it's not so much what you do, it's what you wear while you're doing it, and the drag race is no different. No one really complained that Jim was one of the founders of the race and that including fire extinguishers is kind of stretching the definition of power tools [nb: in 2004 they've changed the rules so that Jim's racer now fits in the rules and the RC car doesn't]. Only a few people seemed to bother trying to figure out how to get the most torque out of a leaf blower. It's unclear whether anyone even wanted to win the Edsel. Taken as a whole, the point wasn't the race, it was the drag.
And there was a lot of power tool drag. Freed from domestic drudgery, the power tools let their freak flags fly. From the Horned Devil to the belt sander slut thing to the Teddy Bears' Tragic Picnic to the thing that was only held together by jamming and wedging pieces to each other, it was an orgy of machine decoration, somewhere between performance and costume ball. Who knows what drove people to stick saws on skateboards and then spend days, weeks in some cases, futzing and decorating the things. What drives people to hang fuzzy dice from their rearview mirrors, to get silly cell phone faces. Why did kids stick cards in bike spokes and hang streamers from the handle bars? Maybe we want our machines to be a little more like us, so that we don't turn into them.
Posted by mikek at June 13, 2004 12:32 AM | TrackBack