My phone=me
There are few things that are not part of our bodies that are as universally present with us as our phones. As Bluetooth beacons appear in our phones, this means that our phones are broadcasting identifiers of us. Ignoring the potential privacy problems with this (yes, ladies and gentlemen, if every database in the world was linked, bad people could find out information about us that we don't want them to know), the idea of having a broadcast identifier of us is really powerful.
In one version of their "Familiar Stranger" project Elizabeth Goodman and Eric Paulos use Bluetooth phone beacons to track the people who we have been in the same space with before, in order to identify the landscape of near-miss acquaintances in our lives.
In their "Personalized Shared Ubiquitous Devices" article in the May/June 2004 Interactions magazine David Hilbert and Jonathan Trevor of FXPAL discuss the idea of a "personal information cloud" which, like the "recent documents" menu, contains a list of recently used documents, but it's a list that's independent of an application or device:


For instance, editing a Word document on my desktop, or a PowerPoint presentation on my laptop, would populate my cloud with these documents. Furthermore, our clouds would become populated through the use of any computing device, including multi-function copiers [they are, after all, working for a copier-maker ;-) --mk]. So if I copied or scanned a document, it would appear in my cloud.

The way they have people access their information cloud is through the use of RFID cards and/or software running on PDAs.
Now, combine the idea of the Bluetooth identity beacon and the document cloud into a single office use scenario (for example) to create a smart hoteling cubicle (or work surface, for the cube-averse):
The cubicle recognizes who is in it who is in it by the Bluetooth beacon on their phone (rather than an RFID card or specialized software). The phone doesn't need to share any "real" information to the cubicle at all, just its unique id. As you walk into the cubicle, it brings up your personal photo archive on the digital picture frame, asks the PBX to forwards your extension to the local phone and brings up your desktop on the shared computer.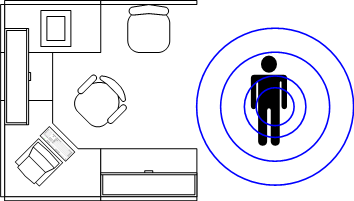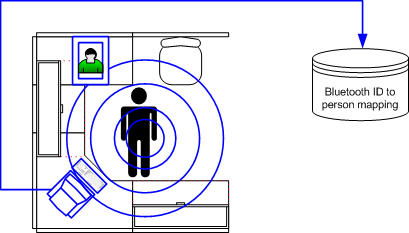 This is the trivial case. Now, imagine, two people in the cube together. I'm sitting at my desk and you walk in to chat. You're likely coming over to talk to me about something you're working on (let's assume). Since you're carrying your phone, the cube knows you're in the same space as me, so it gives my desktop computer instant access to your information cloud: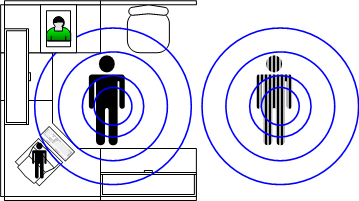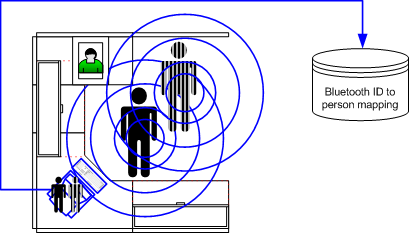 The next step from here is to keep a log of who was in your cube and when, mapped that information to a calendar, maybe along with the files you worked on together, and their most current versions.
Now let's move to a group work area--maybe a bullpen, lounge or conference room. Either a central computer (like described in the Interactions article) or a Bluetooth-enabled laptop can figure out who's in the general vicinity and create a folder called "People who are near me" that lists all of the information clouds of the people in my immediate vicinity, since we're likely going to need each others' files while working together. That way, not everyone need bring their laptops in order to be able to collaborate on a set of documents together.
Treating a Bluetooth-enabled phone as an identity marker, "my phone = me", we can start to ask a whole new set of questions about how identifying ourselves to our surroundings can affect the way we use those surroundings. Moreover, this is a technology that augments existing technologies and ways of work, rather than requiring new ways of working and new technologies to understand, and it does it passively. Even if the implications of losing your cell phone now become that much more dire, I think that's hot.
Posted by mikek at June 7, 2004 06:25 PM | TrackBack