Greetings from the Great Lakes State
I'm on vacation in Michigan, visiting the folks, the dog and the state I moved away from. Most of my time is spent in Ann Arbor, but I also got to spend a little time in Traverse City up north and Kalamazoo (as in "I got a gal in..."), in the middle-south of the state.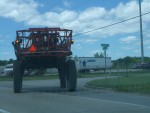 While we're on the Michigan tip, I would like to recommend Sufjan Stevens new record, who sings about Michigan a fair bit. Thought it's occasionally too wussy (learn some power chords, son!), it's good mellow folk rock.
Posted by mikek at May 31, 2004 05:45 PM | TrackBack