Time Horizon Slider
While photographing Renaissance masterpieces in Florence, I was struck by the decreasing value of images. The cost of making images has been dropping precipitously over the last 150 years, since photography. In the Renaissance, they had to choose their subject matter very carefully, because a single image took a long time to make and, by virtue of its rarity, often had to serve a broad audience and communicate many messages simultaneously. This is especially true of the major masterworks, which are often dense and broad (in terms of audience) in content, but it's even in casual decorations, which often had at least two purposes: to cover up a surface and to communicate ownership or status. Since photography, I think that the number of images (and this is a very abstract measurement, of course) that are produced per capita has probably been going up at an exponential rate. Today, there's a deluge of images--I can get 2000 digital photographs onto a memory stick the size of a cracker, five years ago this would have consumed a backpack of 35mm film, fifty years ago it would have consumed a truckload of 120 film, one hundred years ago it would have consumed a train car of glass plates, five hundred years ago it would have consumed, well, the Uffizi.
This has had the effect that images have become both much more personal, as they can be made and shared in ever smaller quantities, and much more ephemeral. To create a painting for just a couple of people was an extravagant indulgence and it became a permanent heirloom, to share a digital camera snapshot with just one person--or even to not share it at all, to keep it completely private--is trivial, to throw it away is just as easy.
This all leads to the current problem: the firehose of information. We all know about it, and have for quite a while, but it keeps ramping up, growing. In terms of my image calculation above, I hypothesize that this is because our ability to find important images, to find meaning in our representations of the world, hasn't grown nearly as quickly. It's grown, but there's a gap between the number of images we find that represent our world in an interesting way and the number of images that we can choose from. That gap is the firehose and closing it is what an enormous amount of energy is devoted to: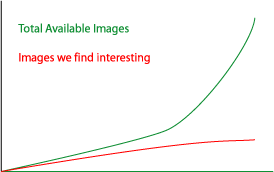 When discussing this with Fabio he put it very poetically: rather than creating ever newer technologies for remembering, we should think about creating technologies that help us forget. I'm not sure I completely agree with the idea that we should be discarding our information (we never know what will be interesting later--I often find that what's going on in the background of old photographs and painting to be as interesting as what the photographer thought was the most important thing), but I definitely agree that there's a value in technologies that forget for us, that filter for us, that make some things more important.
Which brings me to an idea I had back in May, a UI implementation of a baby idea embodying some of the philosophical discussion above: I want there to be a slider in all my Windows Explorer windows that allows me to hide/highlight files based on date. A time horizon that I could choose, which would "forget" things for me based on when they were made. This is more than just sorting by creation date, it's actually making the stuff disappear. Of course it would reappear if I moved the slider, but it would allow me to sort things based on other meaningful criteria while also also sorting them based on time. One end would be all files, the other end would be files/folders changed today. The rest would follow the Find File conventions. Here's a sketch:

So, Microsoft, build me this. Thanks.
[a side note: I've been using Adobe Photoshop Album to manage my digital photos and I like how it lets you manage images. It's essentially a faceted classification tool and an easy one at that. It even has a time slider that's quite nice, although it's absolute, rather than relative to "today."]
Addendum: It seems that Berkeley's School of Information Management and Systems has also been measuring how much information is being produced. This is the more general case of my thought above and the results seem to follow my gut-level curve.
Posted by mikek at December 8, 2003 08:23 AM | TrackBack