A photogeoblog sketch
After last years' ETech and CHI conferences, where location-based information seemed to appear more frequently then before, I started thinking a lot about location-based data and how it will be a big part of the way that we use smart electronic devices on a daily basis. Location is one of the bridges between the data world and our lives--where we are makes a difference to the kind of information we want. There are several different kind of location identification technologies available (cell phone location and GPS) and there are now companies such as Landmat starting to exploit it, so it's going to be here soon (Landmat already did a Time Out City Guide to London that uses your cell phone location to give you customized information).
So I decided to try my hand at thinking about what location-associated service I would like and came up with the location-aware camera idea. I looked at cameras that would do this, but at the time they were all too expensive (they've since come down in price), so I decided to do a quick sketch of how a vacation with a location-aware camera could be documented. I did this over the summer with a digital camera and a bunch of maps I had picked up on a trip Molly and I took, but didn't get to posting it until just now. Here it is.
The context for the trip would be provided by a dynamic map like Bryan Boyer's Indy Junior: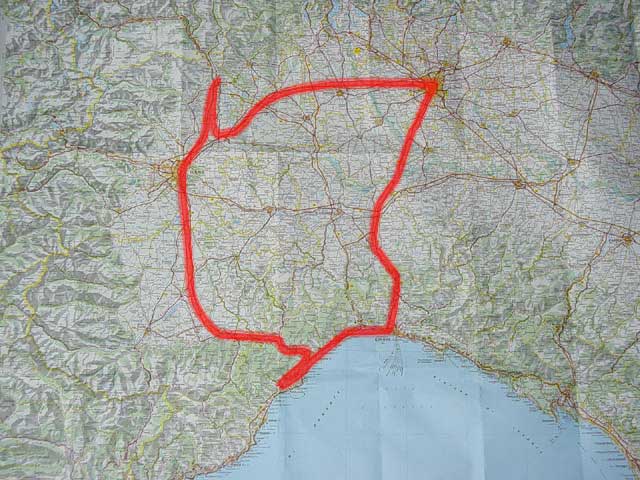 And the rest of the trip would be documented with photographs matched to maps matched to day and time information. This would allow readers to follow the trip as it happened, to see when and where cool things were and to provide some of the feel of the flow of the trip. Services like GeoSnapper do part of this, but not the whole thing (presumably because only some of the information exists and it's tough input it manually).
6/13/03

4:47PM

4:47PM
5:13PM
5:25PM
5:31PM
5:34PM
6:49PM
8:11PM
8:46PM
9:16PM

6/14/03

10:25AM

10:57AM
1:20PM
2:16PM
2:17PM
7:19PM
8:15PM
10:05PM
10:13PM
11:33PM

6/15/03

10:19AM

10:19AM
11:13AM
12:49AM
3:25PM
4:05PM
5:00PM
7:16PM
Posted by mikek at November 24, 2003 05:22 AM | TrackBack